We are proud to be a Solar Installation Partner for VCIB (Vancity Community Investment Bank)
Inferno Solar is excited to announce we are officially partnering with Vancity Community Investment Bank (VCIB) as one of an exclusive list of 16 Solar Installer Partners. We are incredibly excited to be a solar installation partner for VCIB!
Inferno Solar is rooted in sustainability and an unwavering commitment to advancing Western Canada's solar energy sector. As we support businesses and communities in reducing their carbon footprint, we continue to explore opportunities to provide innovative project ownership and financing options that lead the way in solar project delivery. We want to provide solar solutions that have an attractive business case and meet Corporate Social Responsibility mandates, leading to an improved Triple Bottom Line.
Inferno Solar's Preferred Financing Partner
This is why we are partnering with VCIB. As Inferno Solar's preferred financing partner, VCIB is the only B Crop Schedule 1 bank in Canada supporting businesses and communities through solar equipment financing with a dedicated team of solar finance professionals.
Like Inferno Solar, VCIB is passionate about seeing positive change in our communities through solar energy. The financial support and coaching they provide is a step towards making your solar dreams a reality.
Inferno Solar will remain committed to providing energy solutions and seek out ways to reduce the costs and emissions for a more sustainable Western Canada.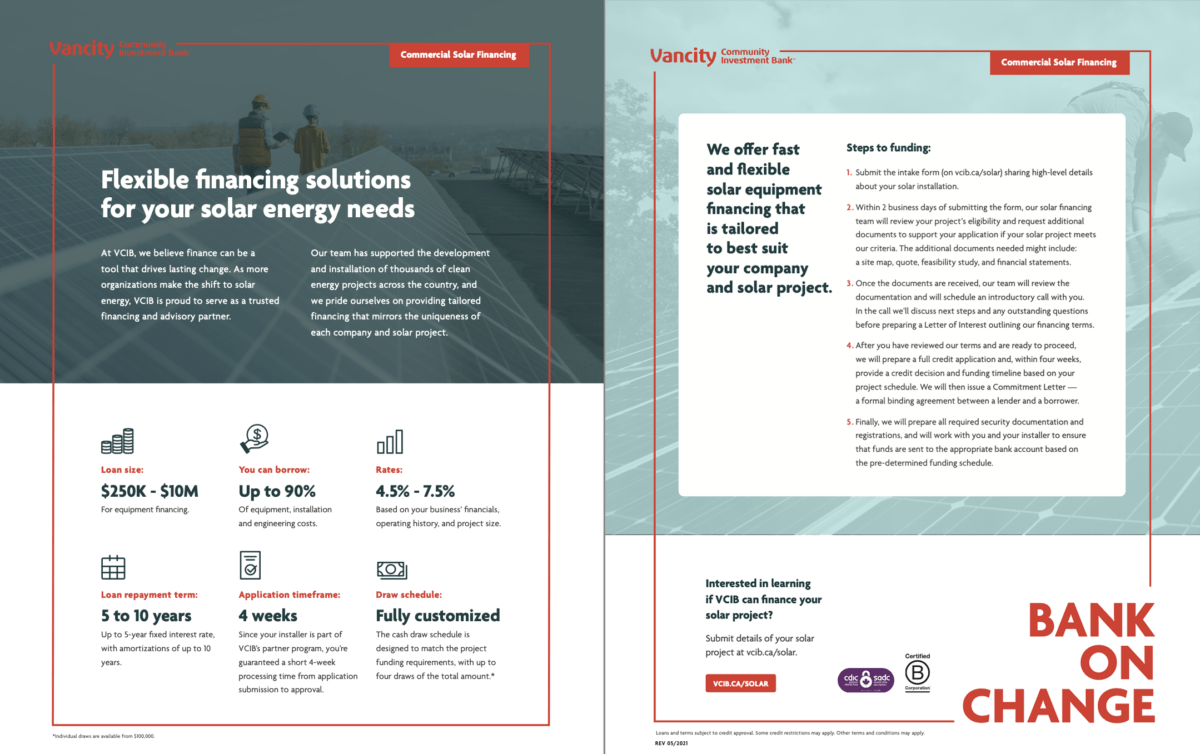 To learn more about our innovations in the solar power sector, follow us on LinkedIn, Facebook, YouTube, and Instagram.